Pool Water Technologies
For Centroprojekt, pool water technology systems are the most important part of the entire pool design. Setting up a top-quality filtration system and/or selecting the most optimum technology for the pool is crucial for us and we are particularly attentive to innovations and workmanship.
Filtration & Sanitation of Pool Water
Filtration and sanitation of pool water is integral part of each pool system. Public pools are exposed to relatively large amounts of load due to contaminants that are brought into the water by visitors, and therefore pool water needs to be filtered and treated on a continuous basis.
Find out more
Types of pools according to materials used
Ceramic pools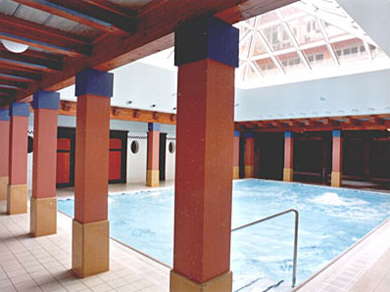 Ceramic tiles were the most common surface finish, especially for the indoor pools in the past. Ceramic tiles offer a wide range of colours that can perfectly accentuate the interior of the indoor water parks. Based on innovative production processes and a variety of sealants, ceramics has become a very interesting material. Considering the nature of the material and its time-limited resistance to climate effects, it is mostly used for the indoor pools. The waterproofness of the ceramic pools is achieved, as a rule, by applying a waterproofing screed under the tiling.
Vinyl-liner pools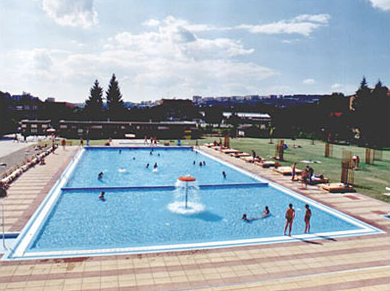 Liner pools are a very good alternative to both stainless steel and ceramic pools. The liners used for the pools feature a geotextile backing that helps enhance mechanical resistance of the liner against damage. Contrary to ceramic tiles, liners are well-proven materials for the outdoor pools as they are weather-proof. Compared to stainless steel pools and ceramic pools, liner pools are the most affordable option. They are advantageously used for renovation projects where the flexibility of the special liner can eliminate minor deformations (cracks) in the concrete tank of the pool.
Stainless steel pools
Stainless steel pools are nowadays widely used for both outdoor facilities and indoor water parks. Higher investment is balanced by a long service life and easy maintenance of the stainless steel surface. Proper pool hydraulics is ensured via distributed flow of water though the bottom inlets and outlets. The stainless steel pools offer high user comfort accentuated by integrated water attractions. The stainless steel pools are self-supporting structures. They only need reinforced-concrete strips to which the wall supports and pool bottoms can be anchored. The indoor pools require a coordinated connection to the load-bearing structures of the building.